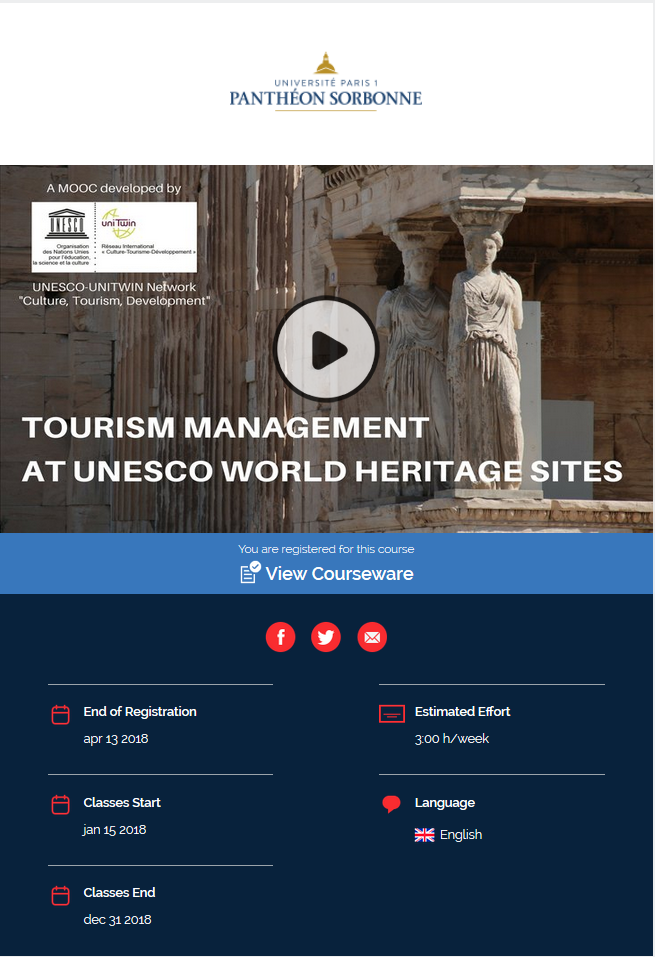 The MOOC (Massive Open Online Course) on Tourism Management at UNESCO World Heritage Sites has been produced by the UNESCO UNITWIN Network "Culture, Tourism, and Development", led by Paris 1 Panthéon-Sorbonne University (Paris, France).
USI-based UNESCO Chair has been deeply involved in designing and developing it, it offers a module on ICTs nad Heritage Tourism. Additionally, prof. L. Cantoni is co-coordinating it.
It provides a wide overview of tourism issues at UNESCO World Heritage Sites, such as UNESCO's principles and doctrines, Communication Technologies, Economy, Management and Planning, and more. Each module provides a unique view on the topic, so as to form a rich and various concert of voices.
A varied public could benefit from the course: site managers, professionals in the tourism industry, policy makers, students, and all those committed to increase their knowledge about and to promote sustainable tourism at sites of Outstanding Universal Value.
The course, in English, is completely free and open, and will be delivered mid-January 2018 on the major French platform, FUN MOOC. It is organized in 8 thematic units, unveiled every week. Their structure foresees ad-hoc didactic videos and documents, as well as quizzes, additional materials, and activities aimed at fostering experience sharing among learners.
Learners successfully completing the course will then receive a free course completion certificate.
For further information and to register, please visit the following page:
https://www.fun-mooc.fr/courses/course-v1:Paris1+16008+session01/about