Summer School 2021 of the UNESCO Chair in ICT to develop and promote sustainable tourism in World Heritage Sites
IMAGINE
ICTs to promote sustainable heritage tourism in Indonesia
16 – 24 August 2022
(Indonesia)
The 7th edition of the USI UNESCO Chair Summer School will be realized in collaboration with Trisakti School of Tourism, in Indonesia from 16th until 24th of August, 2022.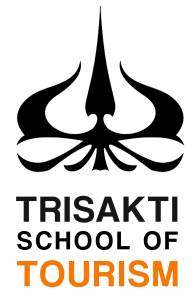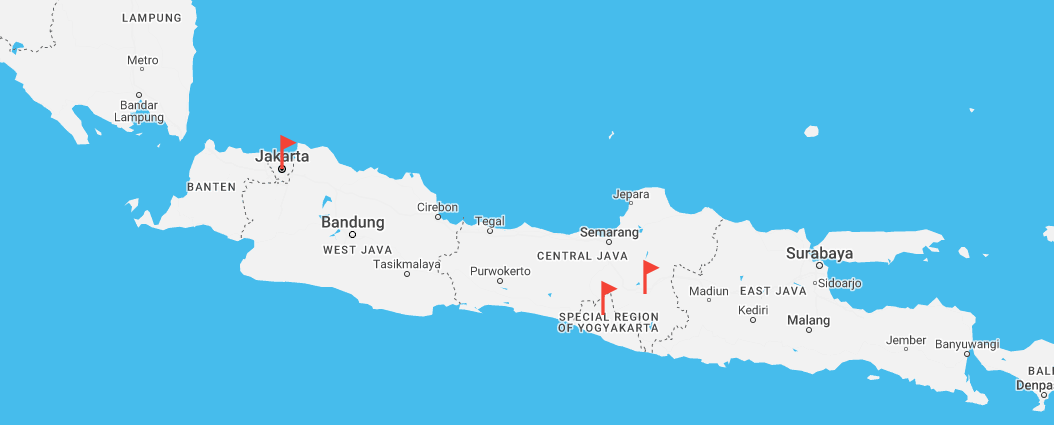 The USI UNESCO Chair Summer School in Indonesia will discover tangible Indonesian UNESCO World Heritage Sites and intangible Cultural Heritage in three cities (Jakarta, Solo and Yogyakarta). The Summer School will provide learning experiences about Indonesian Batik textile heritage, local gastronomy, as well as cultural visits and seminars. A special focus will be placed on the issue of how Information and Communication Technologies (ICTs) can be applied to enhance the preservation of the tangible and intangible cultural heritage of Indonesia and strengthen sustainable tourism, as well as connect locals and visitors. Seminars will be conducted in two Royal Palaces (Solo and Yogyakarta) on Java Island. The Summer School also includes the two most prominent Indonesian UNESCO World Heritage Sites; the Borobudur and Prambanan Temple compounds.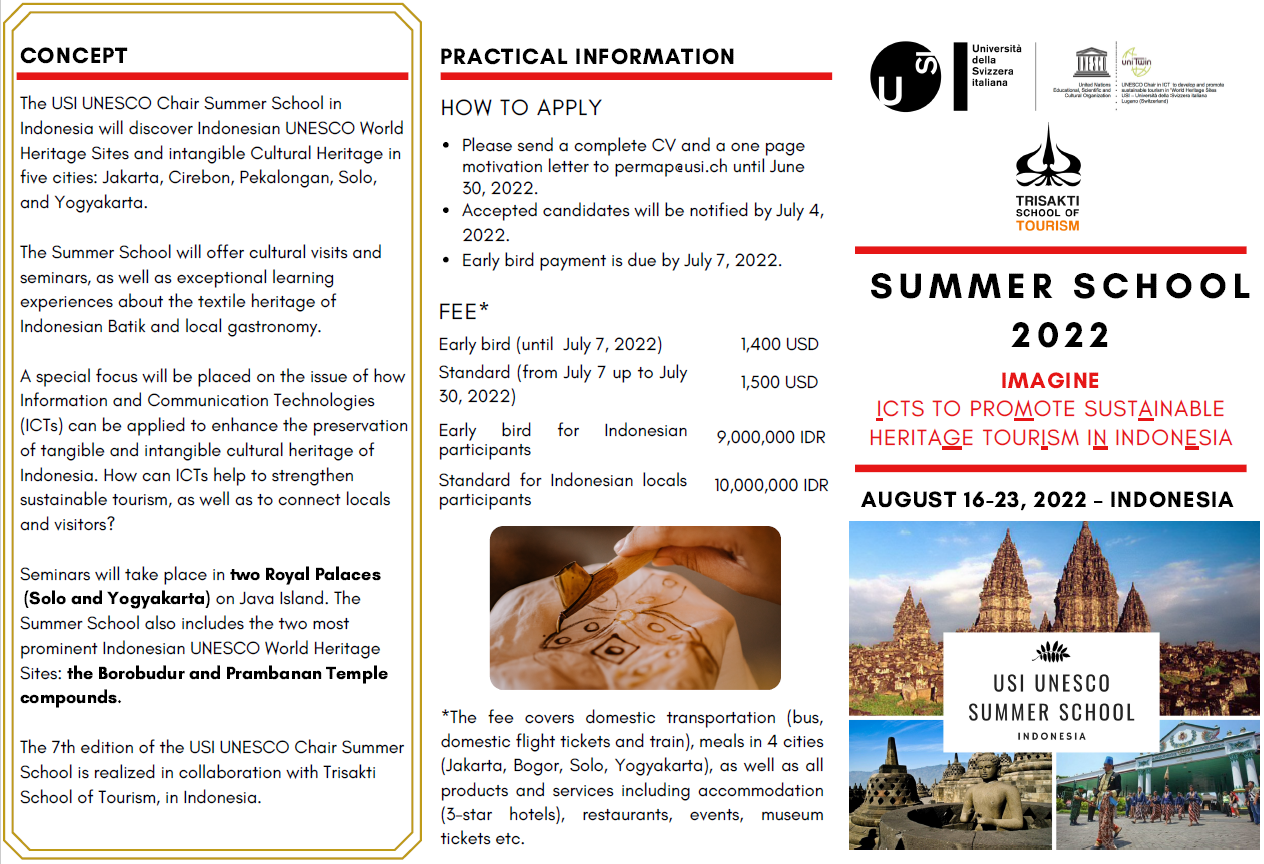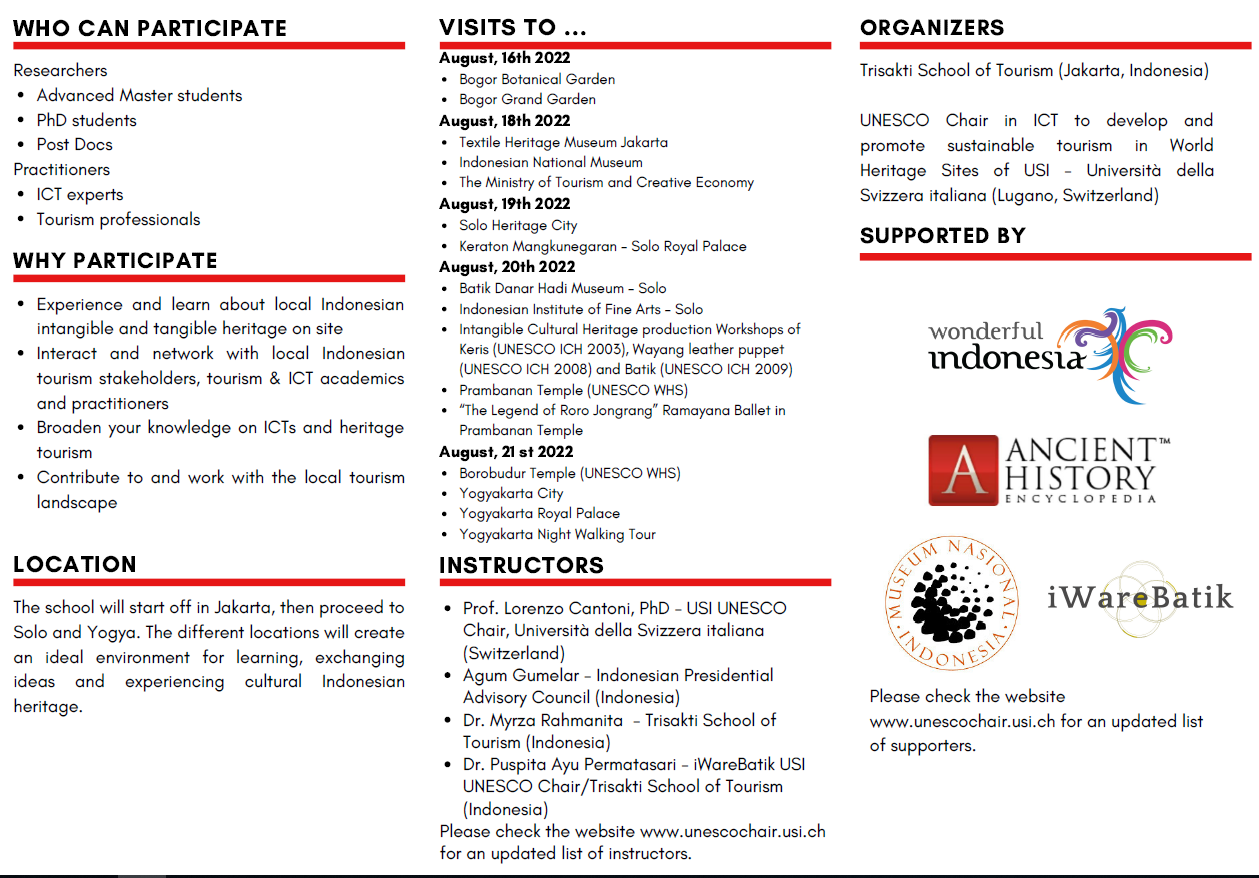 Agum Gumelar, M.Sc. (TBA)


Former General of Indonesian National Army




the Indonesian Presidential Advisory Council (PAC), Republic of Indonesia

Mrs. Sisca Soemitomo (TBA)                                                                            Expert Of Indonesian Culinary Arts & Gastronomy Heritage
Prof. Lorenzo Cantoni                                                                                   

Chair holder, USI UNESCO Chair 

Dr. Puspita Ayu Permatasari                                                                          PhD in ICT for Intangible Cultural Heritage in tourism and fashion.      Lecturer, Trisakti School Of Tourism                                                                      External Research Associate USI UNESCO Chair
Intangible Cultural Heritage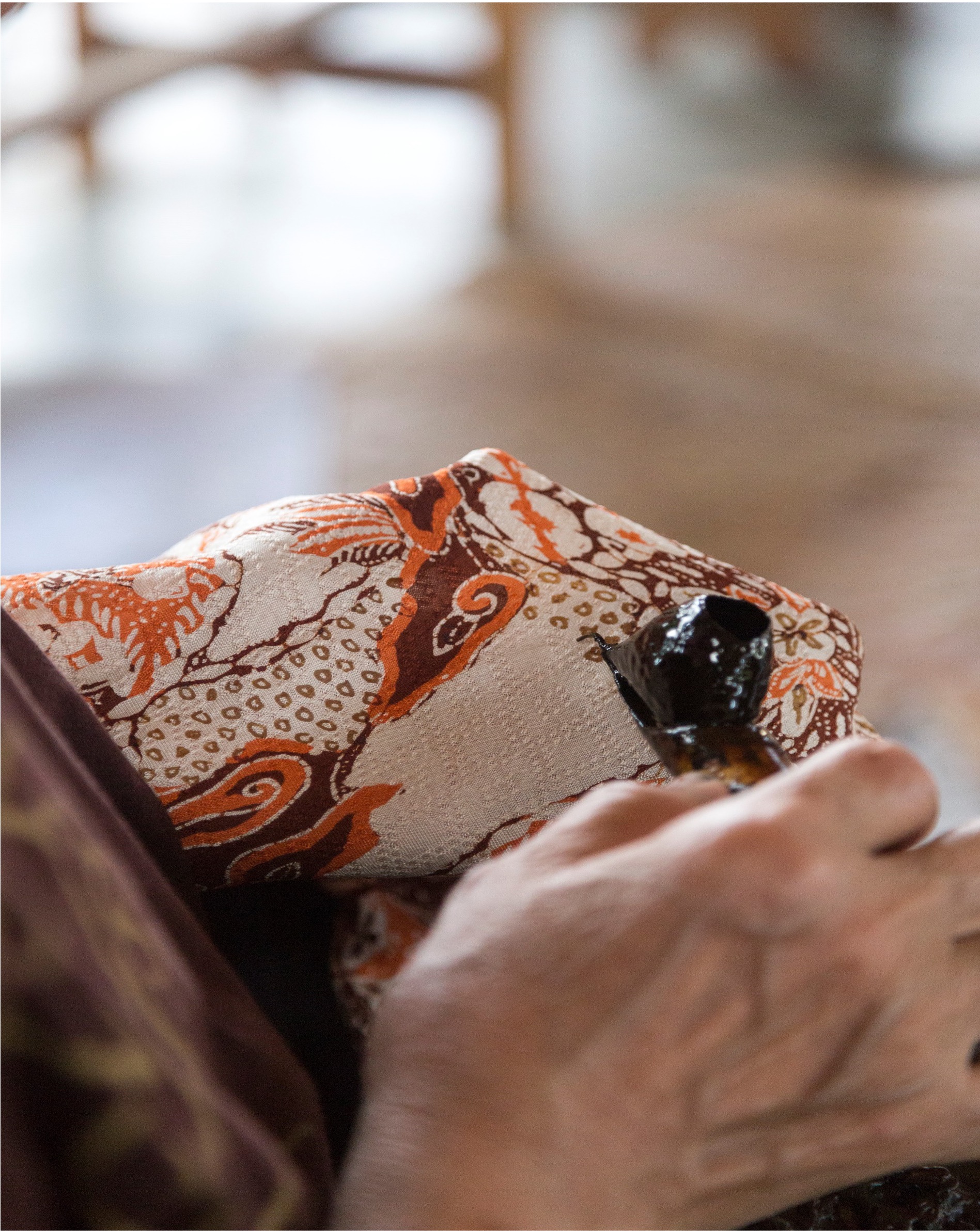 Please send a complete CV and a one page motivation letter to permap@usi.ch until June 30, 2022. 

Accepted candidates will be notified by July 4, 2022. 

Early bird payment is due July 7, 2022.  
The tuition fee includes 3-star hotel, domestic transport, site tickets, 3 meals per day during the Summer School (excluding inbound flight to Indonesia). The fee variation is detailed as follows:

Early bird = 1400 USD (for those who pay up to 7 July 2022) 

Normal fee = 1500 USD from (20 June until July 30th, 2022). 
For domestic participants is IDR 9'000'000 (early bird) and normal price is IDR 10'000'000. 
Payment could be transferred  to the following destination

Name of Bank: 
Bank Negara Indonesia (BNI)
Account Number: 023 7123489 (USD Account)
Account beholder
:  Sekolah Tinggi Pariwisata Trisakti 
Subject
: "
Your name_ UNESCO Summer School"
*Special notes: Those who would like to conduct the payment via WISE transfer, please kindly write an email to puspita.ayu.permatasari@usi.ch for receiving transfer guidance information.
On COVID-19, Food Preferences & Travel
Due to the COVID-19 pandemic, this upcoming USI UNESCO Summer School will be conducted with increased hygiene protocols.
New regulations are put in place:  
– Participants are required to provide proof of the third vaccine from any vaccine provider.
– Provide travel insurance that covers any medical expenses in case of COVID-19 occurrence. 
– Visa on arrival applies to 60 countries (stay up to 30 days). Here is a list:  https://kemlu.go.id/bern/en/pages/masuk_indonesia_pada_saat_pandemi_covid-19/4823/etc-menu
– Provide information on food allergies and other information to any specific rqeuirements. 
– In case the participant would like to go to any other destination after 24th of August, please kindly inform us. The change or new purchase of any domestic flight ticket could be made through us and the cost & discounts will be communicated accordingly.