AUDITORIUM – culturAl sUstainability inDIcaTors fOr heRItage toUrism Management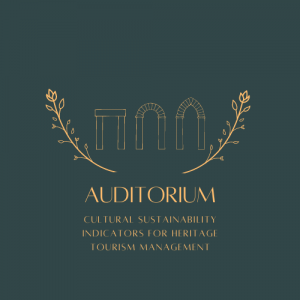 Mobility Grants 2020 – Bilateral research cooperation with the Latin American Region: The State Secretariat for Education, Research and Innovation (SERI)
This research aims to develop a model of cultural sustainability indicators for the management of tangible and intangible heritage, mainly in tourist places enlisted among the world heritage sites by UNESCO. To this end, we established a partnership between the UFMG – Federal University of Minas Gerais (Brazil) and the UNESCO Chair in Information and Communication Technologies to develop and promote sustainable tourism in World Heritage Sites, established at USI – Università della Svizzera italiana (Switzerland) which is developing a concept of cultural sustainability for tourism through literature review and application of online surveys and interviews with heritage managers. Thus, this research proposal aims, from this concept, to elaborate and test in loco the feasibility of implementing cultural sustainability indicators having as a pilot project heritage sites located in Switzerland and in Brazil – specifically in the North of the state of Minas Gerais. For that reason, the project also count on the partnership of UFVJM – Federal University of Vale do Jequitinhonha and Mucuri (Brazil). Interviews and workshops with the local communities and property managers of both territories will be conducted and the results will be used to design a larger scale research to define a cultural sustainability indicator map that can be monitored online and used on other tangible and intangible heritage supported by UNESCO. The indicators tool will help in the elaboration of cultural sustainability policies in heritage sites, improving the visitor experience in these spaces and their integration with the local culture. This integration, made sustainably, will mainly generate an improvement in the quality of life, making the culture to positively aggregate the social, economic and environmental development of cities and communities. Also, it is expected that this pilot project could be extended in the future resulting in new opportunities of fundings to define and refine the methodology through studies in more destinations.
Renata Maria Abrantes Baracho Porto
Professor at Federal University of Minas Gerais, Brazil – UFMG,  Graduate Coordinator – Built Environment and Sustainable Heritage – PACPS/UFMG, Department of Design, Architecture and Urbanism Technology – TAU/EA/UFMG, Pos doc / Visiting Scholar at the University of South Florida – USF/USA. PhD in Information Sciences UFMG with PDEE at Penn State University, USA; Master's in Computer Science DCC/UFMG; Undergraduate Architecture and Computer Science. President of the National Association for Research in Information Science (2014-2016). Develops research in Smart Cities, Smart Buildings and Building Information Modelling – BIM, Heritage Building Information Modelling – HBIM Information Systems, Knowledge Organization System – KOS.
Hebert Canela Salgado
Has a degree in Tourism and Hotel Management, Master in Social Development (Unimontes) and PhD in Geography (Federal University of Uberlandia). He is Adjunct Professor of the Bachelor's Degree in Tourism in the Federal University of the Jequitinhonha and Mucuri Valleys (UFVJM) and Permanent Professor of the Postgraduate Program in Rural Studies (UFVJM). He is a member of the Research Group Tourism Research Center: Heritage, Decolonial Territories and Labor (PATTTUR), the Research Group: Center for Studies of Agrarian Societies (NESA) and the Research Group of the Brazilian Long Distance Trails Network (Rede Trilhas-Brasil). Member of the Brazilian Network of Tourism Observatories, Espeleogrupo Peter Lund, Grande Sertão Institute (IGS) and Auguste de Saint-Hilaire Institute (IASHI). Member of the Advisory Board of the Mosaic of Protected Areas Sertão Veredas-Peruacu, the Management Committee of the Biosphere Reserve of the Espinhaço Range (UNESCO), is Director of Marketing of the Diamond Tourist Circuit which includes the city of Diamantina-MG, World Heritage Site.  
Rafael Oliveira
Rafael Oliveira graduated in Tourism and Public Administration. He is a Ph.D. Candidate in Knowledge Management and Organization at Federal University of Minas Gerais – Brazil. He has experience in public administration, working in the Secretary of Tourism of Minas Gerais State as Director of Research, Information and Statistics and as Superintendent of Tourism Policies. He is the owner of the "Tourism and Innovation" website (in Portuguese language): a space to discuss ICT concepts and innovation in tourism.
His research interests are smart and sustainable indicators for world heritage sites, web scraping techniques and the use of ITC to improve user's experience in destinations.