Winter School 2022 of the UNESCO Chair in ICT to develop and promote sustainable tourism in World Heritage Sites
 Digital Cultural Tourism and Diplomacy
13-20 February 2022
Limassol, Cyprus
The 2022 edition of the USI UNESCO Chair Winter School was realized in collaboration with the UNESCO Chair on Digital Cultural Heritage at the Cyprus University of Technology in Cyprus.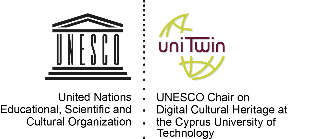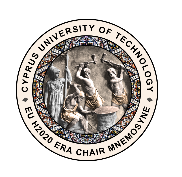 Indigenous cultural heritage is the legacy of tangible physical objects combining the intangible aspects of a group of society. Objects, artefacts, buildings, places and monuments aside, intangible cultural heritage, also known as "living heritage" or "living culture", refers to living practices, representations, expressions, knowledge, and skills passed down from generation to generation. This heritage provides communities with a sense of identity and is continuously recreated in response to their environment, their interaction with nature and their history. It is called intangible because its existence and recognition mainly depend on human knowledge and will, which is immaterial, and is transmitted by imitation and living experience.

The 2022 Winter School done as a collaboration between two UNESCO Chairs: "on Digital Cultural Heritage" and "in ICT to develop and promote sustainable tourism in World Heritage Sites", was dedicated to investigating how ICTs designed to enhance the tourism experience can help in preserving and transmitting living heritage and bring people to work and live closer together, while at the same time promoting different forms of tourism – cultural, historic, religious, eno-gastronomic, etc. – that go beyond traditional "sun sea and sand". Cyprus with its richness of tangible and intangible heritage provided a suggestive background, as well as an ideal environment with various case studies.
Lectures and talks, visits to UNESCO World Heritage Sites and other places, experience of unique local traditions, hands-on exercises, and a range of formal and informal activities allowed participants to understand how to leverage smart digital technologies for sustainable tourism and cultural diplomacy in order to preserve and transmit living heritage.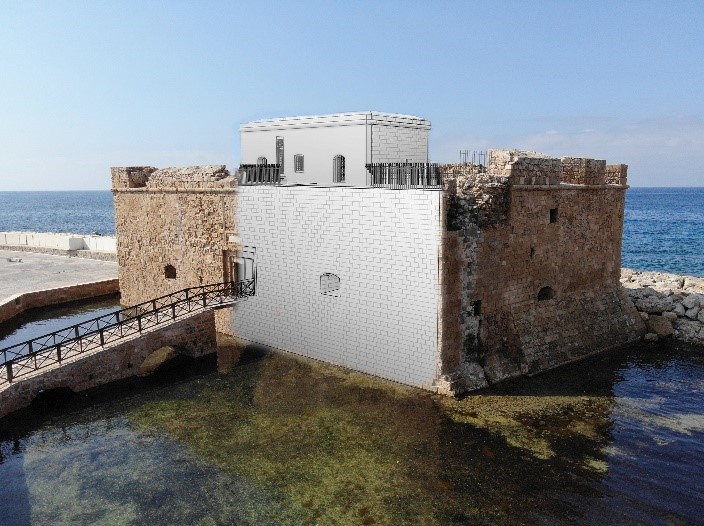 Pafos Medieval Castle, Cyprus; Photo: © UNESCO Chair on Digital Cultural Heritage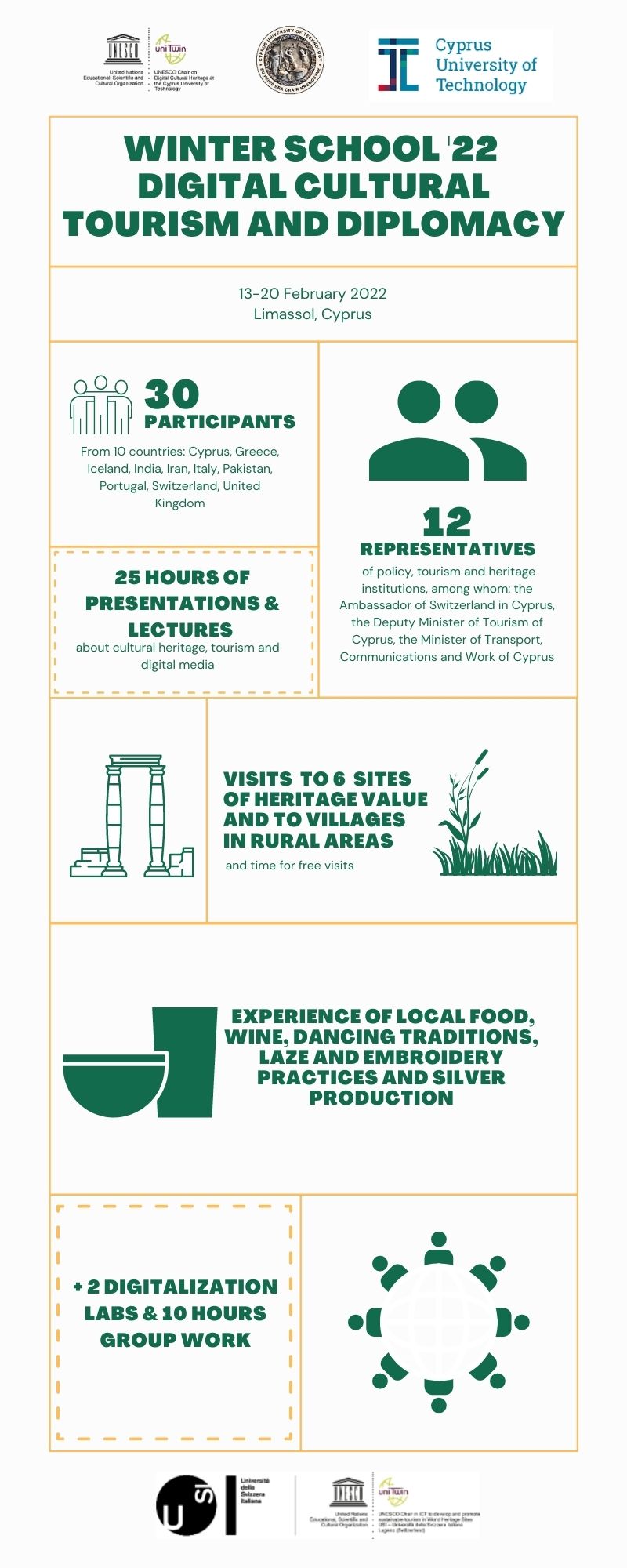 Limassol is a city on the southern coast of Cyprus and is the second largest urban area in Cyprus after Nicosia, with a population of 183,658 and a metropolitan population of 239,842. Limassol was built between two ancient Greek cities, Amathus and Kourion; during Byzantine rule it was known as "Neapolis" (new town). Limassol's historical centre is located around its Medieval Castle and the Old Port. Today, the city spreads along the Mediterranean coast and has extended much farther than the castle and port, with its suburbs stretching along the coast to Amathus. To the west of the city, is the Akrotiri Area of the British Overseas Territory of Akrotiri and Dhekelia.
Talks and lectures were held in Limassol. Hands-on workshops and site visits included trips to various locations in Cyprus that are of great tourism significance for the promotion of cultural heritage:
Limassol: Cyprus Wine Museum, Limassol Medieval Castle

Pafos: Agios Neophytos Monastery, Chrysoroyiatissa Monastery, and Pafos UNESCO WH listed archaeological site.
Participants undoubtedly gained intangible heritage experiences by exploring up close the rich history of the island, working closely with the sites and stakeholders to create valuable ICT projects, and sampling local food and beverages.
Yannis Karousos Minister of Transport Communications and Works (Cyprus), Link
Savvas Perdios Deputy Minister on Tourism (Cyprus), Link
Kyriakos Hadjiyiannis Chairperson of the House Standing Committee on Energy, Trade, Industry and Tourism (Cyprus), Link

Dr. Martin Galan Rodrigo Project Officer European Commission – Research Executive Agency, Link


Prof. Panayiotis

Zafiris

 

CUT Rector (Cyprus), Link


Pierre-Yves Fux Ambassador of Switzerland to the Republic of Cyprus (Switzerland), Link


 
Prof. Jan van der Borg Coordinator H2020 EU Project SMARTCULTOUR (Belgium), Link

George Campanellas CEO Invest Cyprus (Cyprus), Link
Prof. Lorenzo Cantoni Chair holder of the UNESCO Chair in ICT to develop and promote sustainable tourism in World Heritage Sites at USI (Switzerland), Link

Dr. Silvia De Ascaniis

Coordinator of the UNESCO Chair in ICT to develop and promote sustainable tourism in World Heritage Sites at USI (Switzerland

),

Link
Dr. Kyriakos Efstathiou Chair holder of the ERA Chair on Digital Cultural Heritage at CUT (Cyprus), Link

Dr. Marinos Ioannides Chair holder of the UNESCO Chair on Digital Cultural Heritage at CUT (Cyprus), Link


Prof. Carolina Islas Sedano University of Turku (Finland), Link

Dr. Fergus Maclaren ICOMOS, Link

João Martins Nova University Lisbon (Portugal), Link
Lenia Mylona Chairlady Cyprus Tourist GUIDE Association (Cyprus), Link


Filokypros

Rousounides

Director General Cyprus Hotel Association (Cyprus), Link

Milada Šťastná Mendel University in Brno (

Czech Republic

), Link
Antonis Theocharous CUT (Cyprus), Link
Prof. Simona Tondelli Coordinator H2020 EU Project RURITAGE, Link

Marinos Ioannides Chair holder of UNESCO Chair on Digital Cultural Heritage (CUT, Cyprus)
Kyriakos Efstathiou Chair holder of ERA Chair on Digital Cultural Heritage (CUT, Cyprus)
Lorenzo Cantoni Chair holder of UNESCO Chair in ICT to develop and promote sustainable tourism in World Heritage Sites (USI, Switzerland)
Silvia De Ascaniis Coordinator of UNESCO Chair in ICT to develop and promote sustainable tourism in World Heritage Sites (USI, Switzerland)