The United Nations Educational, Scientific and Cultural Organization (UNESCO) is a specialized agency of the United Nations (UN). UNESCO was created in 1945 in order to respond to the firm belief of nations, forged by two world wars in less than a generation, that political and economic agreements are not enough to build a lasting peace. UNESCO purpose is to contribute to peace and security by promoting international collaboration through education, science, and culture.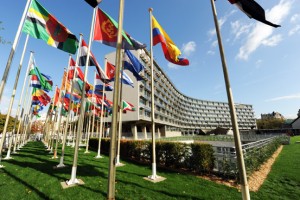 Switzerland has been a member of UNESCO since 1949. The Swiss UNESCO Commission implements the values and objectives of UNESCO in Switzerland and advises the federal authorities on relations with UNESCO. In line with its priorities and by means of specific projects, it builds bridges between members of the international community, civil society in Switzerland and federal and cantonal political authorities.
World Heritage List 
With the creation in 1972 of the UNESCO Convention concerning the Protection of the World Cultural and Natural Heritage (UNESCO World Heritage Centre, http://whc.unesco.org/), great attention has been paid to cultural and natural heritage all over the world, leading to a rise in awareness and concern for preserving heritage for future generations. The World Heritage Convention defines heritage as "our legacy from the past, what we live with today, and what we pass on to future generations." As of September 2012, 190 States Parties have ratified the World Heritage Convention.
The World Heritage List includes 981 properties (as of July 31, 2013) forming part of the cultural and natural heritage which the World Heritage Committee considers as having outstanding universal value.
These include 759 cultural, 193 natural and 29 mixed properties in 160 States Parties.
The complete list of World Heritage Sites can be found following this link: http://whc.unesco.org/en/list/