Exploring the public discourse around Chinese Outbound Tourism (working title; PhD project)
PhD Student: Lea Hasenzahl
Supervisor: Prof. Lorenzo Cantoni
Short Description:
The Ph.D.  project aims to explore "the public discourse around Chinese Outbound Tourism in Western societies" (working title). The project started in December 2019. It will be a cumulative thesis. 
Hasenzahl L., Cantoni L. (2021) "Old" and "New" Media Discourses on Chinese Outbound Tourism to Switzerland Before and During the Covid-19 Outbreak. An Exploratory Study. In: Wörndl W., Koo C., Stienmetz J.L. (eds) Information and Communication Technologies in Tourism 2021.. Springer., Cham. https://doi.org/10.1007/978-3-030-65785-7_50
Recent News about the project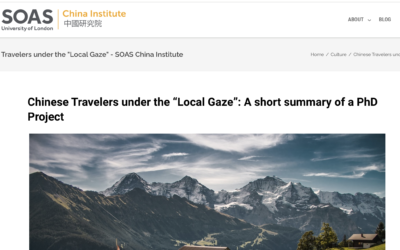 In October 2022, Lea Hasenzahl's PhD project on the discourse about Chinese Outbound Tourism (COT) in the West (working title, supervised by Prof. Lorenzo Cantoni) has been featured on the blog of the China Institute at SOAS University of London. SOAS was founded in...