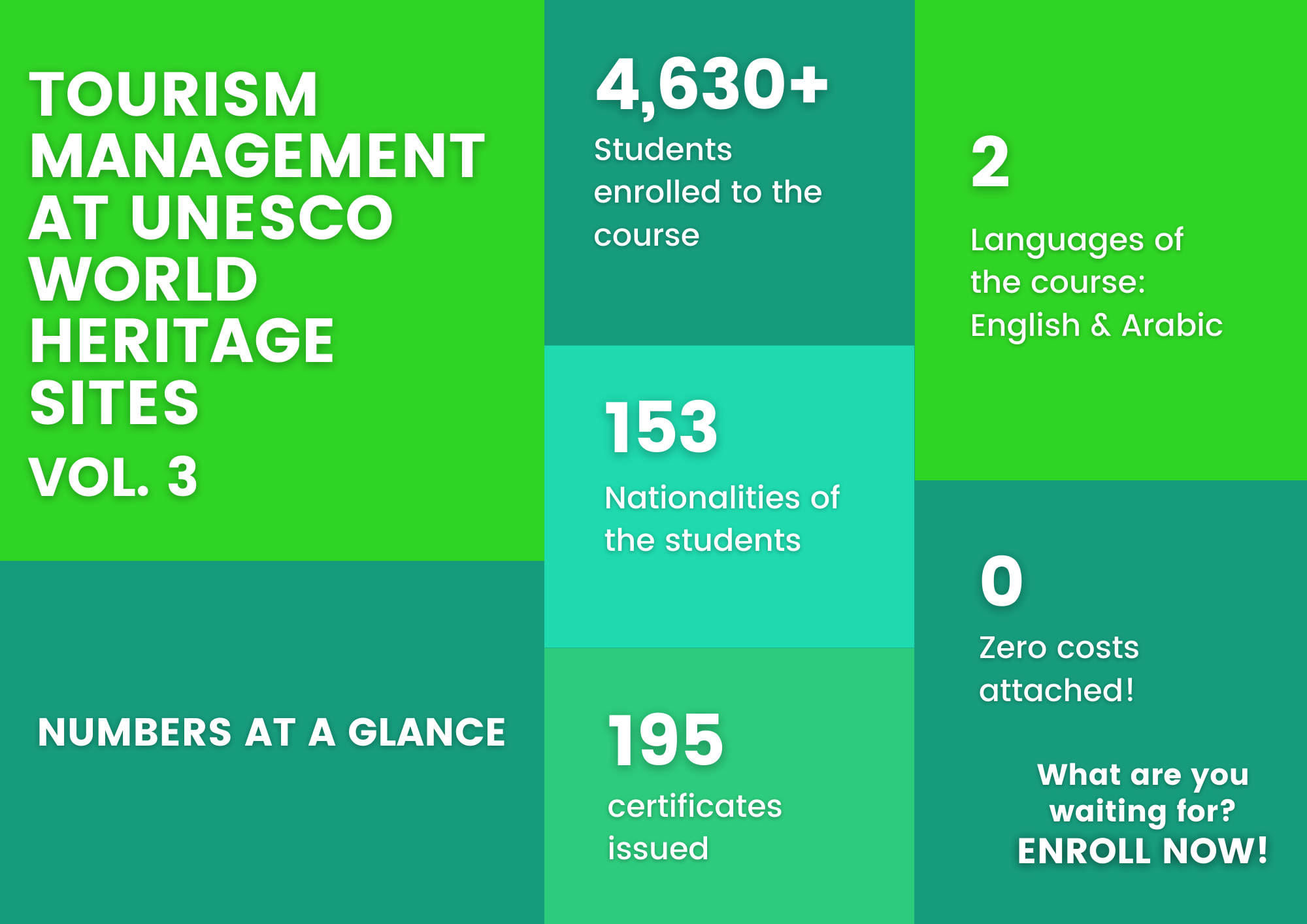 We're very happy to announce that the first launch of the Massive Open Online Course (MOOC) "Tourism Management at UNESCO World Heritage Sites" has been very successful: it gathered the attention of 4630+ students from 153 countries!
The second launch is just around the corner: on October 4, the course will be reopened for all new learners. The chapters will be revealed one after the other over the course of six weeks. Newcomers are very welcome to join!
You can reach the course and more information here: https://www.fun-mooc.fr/en/courses/tourism-management-unesco-world-heritage-sites-vol-3/
The most recent volume of the "Tourism Management at UNESCO World Heritage Sites" MOOC series has been developed as an active response to last year's outbreak of the still ongoing COVID-19 crisis. The USI UNESCO Chair has always believed that eLearning is a very powerful tool to support the resilience of Tourism in these hard times.
Since the opening of the first volume in 2018, a truly wide and constructive community from all walks of life and passionate about tourism has come to life (almost 15,000 learners have enrolled in the three volumes). With this MOOC, we hope to reach policy makers and managers of destinations committed to promoting tourism at sites of Outstanding Universal Value, while at the same time concerned with their conservation. As a matter of fact, it is one of the Network's goals to get expertise closer to the policy decision-makers to benefit the populations, especially those in poverty.
A rich and international team of researchers and university professors of the UNESCO UNITWIN Network "Culture, Tourism, Development" (42 instructors from 11 countries) presents numerous possible angles and innovative ideas on how to tackle tourism in the present and future, during crises, for the vulnerable, and in low to high-income contexts. Students will also learn how to provide better experiences, understanding and management of tourism in World Heritage Sites.
I believe it is a very valuable tool that students and professionals in the field can benefit from. Indeed, it provides both theoretical and applied knowledge in the forms of theoretical notions and numerous and varied case studies of concrete examples of tourism management in heritage sites from all around the globe.
Furthermore, thanks to the participation and support of the French Agency for the Development of Alula (AFALULA) and Royal Commission for Alula (RCU), each chapter of the course contains insights into one of the World Heritage Sites from the Arab World: the Site of Al-Hijr (Madâin Sâlih). Students will have exclusive access to the challenges and opportunities for tourism development in Al-Hijr (Madâin Sâlih)/AlUla thanks to short interviews with professionals working in and for this extraordinary archaeological site at the center of the new tourism strategy promoted by Saudi Arabia.
The course will remain open until the end of 2022 and is available in English and Arabic.
Topics include:
UNESCO Principles

UNESCO Conventions

Sustainable Tourism

eTourism

Site management systems

Interpretation

Tourism marketing