Winter school 2024
Digital media for tourism in Creative Cities: experiences from the center of Portugal
11 – 18 February, 2024
Portugal
The 2024 edition of USI UNESCO Chair Winter School is realized in collaboration with the Department of Geography and Tourism of the University of Coimbra and the Faculty of Social Sciences and Technology of the Universidade Europeia of Lisbon. 

Founded in 1290 by King Dinis and recognized in the same year by Pope Nicholas IV, the University of Coimbra is the oldest university in Portugal and among the oldest universities in continuous operation in the world. It is a UNESCO World Heritage Site since 2013.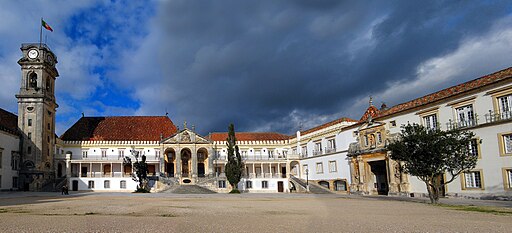 It is a private university based in Lisbon, recognised by Decree-Law 87/2013 of 26 June. Together with several other independent higher education institutions sharing its name (European University), it forms a substantial network of university education across Europe.
Concept
The topic accompanying this year's winter school is Creative Cities (https://en.unesco.org/creative-cities/home), a program launched by UNESCO in 2004, to promote cooperation with and among cities that have identified creativity as a strategic factor for sustainable urban development. The cities which make up this network work together towards a common objective: placing creativity and cultural industries at the heart of their development plans at the local level and cooperating actively at the international level. The Network covers seven creative fields: Crafts and Folk Art, Media Arts, Film, Design, Gastronomy, Literature and Music. Almost 300 cities around the world have so far joned the network, 9 of them are in Portugal.
The winter school will celebrate the 20th anniversary of the Creative Cities program, taking participants on a discovery of three Creative Cities in the centre of Portugal, which are developing their activities in three different fields, music: Leiria, literature: Óbidos, crafts and folk art: Caldas da Rainha. In each city, representatives of the municipality will tell about the actions and initiatives taken to reach the network's common objective. In addition to lectures, visits and experience of local intangible heritage, participants will work in groups on real tourism challenges that each city is facing.
Visits to
Coimbra, is a major cultural centre in Portugal, mostly thanks to  its university, which is the oldest academic institution in the Portuguese-speaking world with its historical buildings that were classified as a World Heritage Site by UNESCO in 2013. It "offers an outstanding example of an integrated university city with a specific urban typology as well as its own ceremonial and cultural traditions that have been kept alive through the ages" ["University of Coimbra – Alta and Sofia", https://whc.unesco.org.]
Leiria, was the principal residence of the Portuguese king Denis, and is today home of cultural institutions, sites of historical interests as the castle where every year the city's music festival takes place, as well as of Portugal's restored first paper mill. Its name derives from 'leira' that means an area with small farming plots, indicating its original nature as an agricultural centre.
Caldas da Rainha, is best known for its sulphurous hot springs and ceramic pottery. The city's name can be translated as "Queen's Hot Springs", "Queen's Spa", or "Queen's Baths", since it was founded in the 15th century by Queen Leonor (Rainha Dona Leonor), who established a hospital and a church at the site of some therapeutic hot springs. The city hosts nine musums, cultural and sports venues, a centre for performing arts, exhibitions, and conferences, and six professional and higher-educational institutions, including a major arts and design school and a school devoted to ceramics.
Óbidos, is a well-preserved example of medieval architecture, with its streets, squares, walls and castle. It is home to the famous Praia D'el Rey golf complex, one of the top golf resorts in Europe. The city is famous for its 14 bookstores. In 2013, the town administration of Óbidos developed a municipal literature programme which included the creation of an international literary festival, the Fólio (Festival Literário Internacional de Óbidos), which takes places every year in October.
Fatima, is a city in the municipality of Ourém in the Central Region of Portugal. The homonymous civil parish has been permanently associated with ur Lady of Fátima, a series of 1917 Marina apparitions that were witnessed by three local shepherd children at the Cova da Iria. The Catholic Church later recognized these events as "worthy of belief". The Sanctuary of Our Lady of Fátima is a shrine complex containing two minor basilicas and the small chapel buitl at the site of the apparaition in 1919. Associated facilities for pilgrims, including a hotel and medical centre, have also been built over the decades within and around the Sanctuary and the city has become an important international destination for religious tourists, receiving between 6 and 8 million pilgrims yearly.
Lisbon, is the capital and largest city of Portugal, one of the oldest cities in the world and the second-oldest European capital city. Lisbon is one of the major economic centres in Europe. Its port serves as a major hub for cruise ships, involving around 500,000 people in cruise-related activities in the city every year. Lisbon is rich in architecture from differne periods –  Romansque, Gothic, Baroque, Modern and Postmodern – and is home to numerous prominent museums and art collections from all around the world. The city is crossed by historical boulevards and monuments along the main thoroughfares. Lisbon has two sites listed by UNESCO as a World Heritage Site: Belém Tower and Jerónimos Monastery. Furthermore, in 1994, Lisbon was the European Capital of Culture and, in 1998, organised the Expo '98 (1998 Lisbon World Exposition). In summer 2023 the city hosted the World Youth Day 2023, which attracted hundreds of thousands of young Catholics from over 140 countries.
Organizers
Prof. Cláudia Seabra – Department of Geography and Tourism, University of Coimbra
Prof. Sofia Almeida – Tourism & Hospitality Area Coordinator, Universidade Europeia
Prof. Lorenzo Cantoni – Università della Svizzera italiana – USI, chair-holder of USI UNESCO Chair
Dr. Silvia De Ascaniis – Università della Svizzera italiana – USI, coordinator of USI UNESCO Chair
Speakers
Prof. Sofia Almeida – Tourism & Hospitality Area Coordinator, Universidade Europeia, Lisbon, Portugal (topic: Digital media for tourism marketing)
Prof. Ana Caldeira – Faculty of Arts & Humanities, University of Coimbra, Portugal (topic: Intangible heritage and co-creative experiences)
Prof. Lorenzo Cantoni – chair-holder of USI UNESCO Chair, Università della Svizzera italiana (USI), Lugano, Switzerland (topic: Digital media, sustainable tourism and heritage)
Prof. Carlos Ferreira – Department of Geography and Tourism, University of Coimbra, Portugal (topic: Tourists' digital imprints in urban destinations: spatio-temporal patterns for smart and sustainable management)
Prof. Ahmed Hussein Abdelrahman Adam – Department of Archaeology, University of Khartoum, Sudan (Sudanese heritage as a bridge between Africa and the Mediterannean)
Prof. Aliaksandr Kalbaska – European Humanities University, Vilnius, Lithuania (Mithologization of museum objects) 
Prof. Norberto Santos – Department of Geography and Tourism, University of Coimbra, Portugal (topic: Tourism Networks, attractivity of heritage and cities)
Prof. Cláudia Seabra – Department of Geography and Tourism, University of Coimbra, Portugal (topic: Marketing and Promotion of tourism destinations)
Prof. Alessandro Tosi – Department of Civilisations and Forms of Knowledge, University of Pisa, Italy (topic: history of modern art, history of graphic design)
Professionals of the tourism and heritage sector in Portugal
Representatives of the visited municipalities in charge of the Creative Cities programme
Application and fees
To apply to the Winter School 2024, send a CV and a motivation letter to unescochair@usi.ch within November 11th, 2023.
Decisions will be communicated to applicants by November 21st, 2023.
The cost of registering is EUR 900.-. This fee includes:
accommodation in hotels in double rooms,
access to all lectures and training activities,
transfer and entrance fees to cultural sites,
daily lunch, dinner, and coffee breaks,
social event dinner.
Flight tickets, transfers to/from airports, travel and health insurance, and other personal activities will be the responsibility of each participant and are not included in the registration fee. Accommodation in single room is possible by paying the difference with the double room.
The fee cannot be reimbursed.