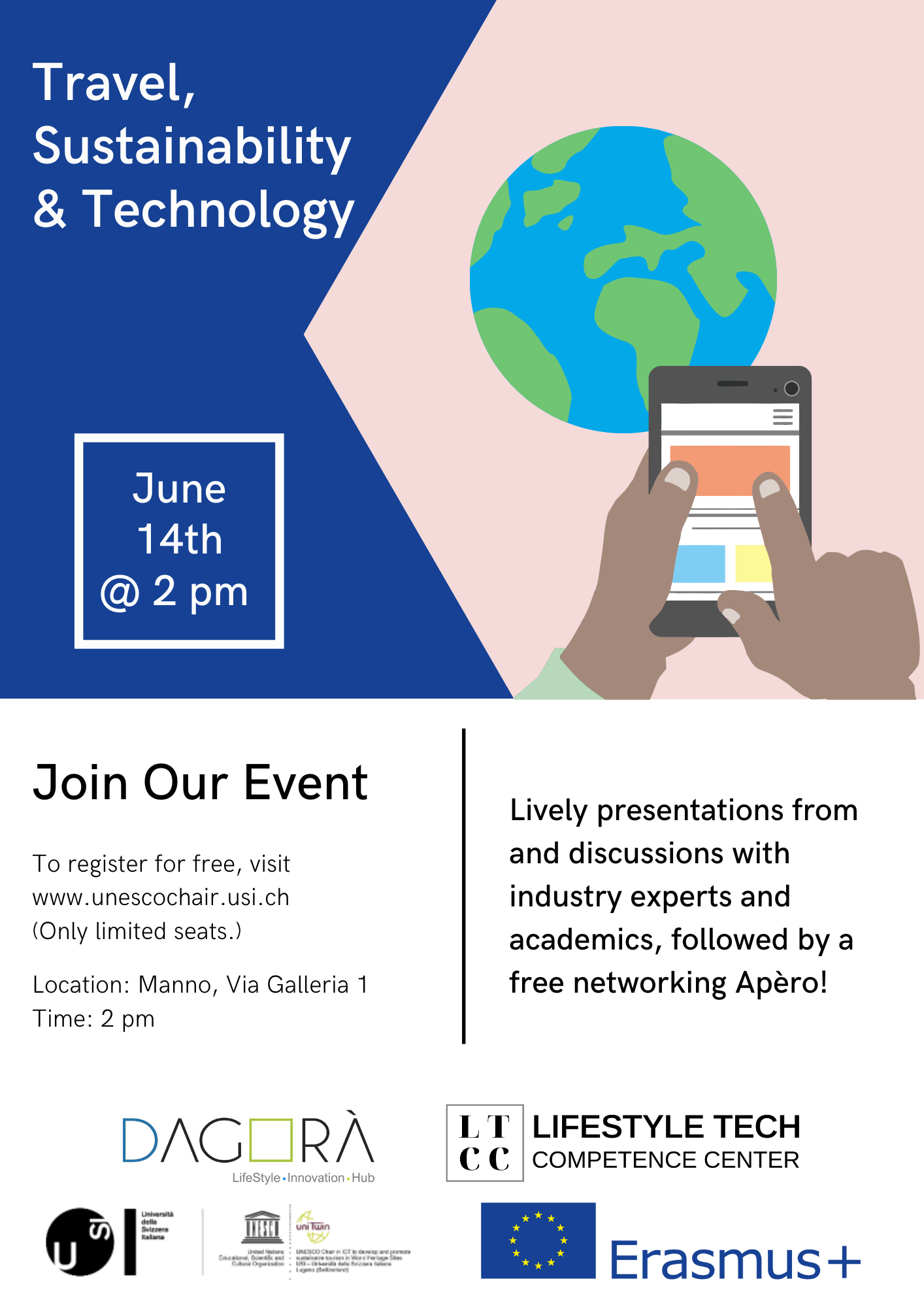 With the outbreak of the COVID-19 pandemic, tourism as a lifestyle sector faced one of its worst crises up to date. As many countries are relaxing restrictions and international travel seems to be able to return, it is time to critically think about the future of tourism and its management, especially when thinking about sustainability and the use of modern technologies.  
In the past two and a half years, USI has run, together with Wyższa Szkoła Informatyki i Zarządzania w Rzeszowie in Rzeszow (Poland, project leader), Univerzitet u Novom Sadu in Novi Sad (Serbia) and Hochschule für nachhaltige Entwicklung Eberswalde in Eberswalde (Germany) the Erasmus+ project "Information and Communication Technologies for Sustainable Tourism Development". This event will present the outputs of this project and bring together experts of tourism and travel & technology to discuss sustainable tourism management and how technologies can help. A free networking Apèro will follow after the presentations and discussions.  
Prof. Lorenzo Cantoni (USI UNESCO Chair):

Lorenzo Cantoni graduated in Philosophy and holds a PhD in Education and Linguistics. He is the intermin rector at USI – Università della Svizzera italiana (Lugano, Switzerland), Faculty of Communication, Culture and Society, where he is director of the Institute of Digital Technologies for Communication. He is chair-holder of the UNESCO chair in ICT to develop and promote sustainable tourism in World Heritage Sites, established at USI in 2013, and board member of WHES – World Heritage Experience Switzerland.  

Elide Garbani-Nerini (DESy Project Lugano)

Elide Garbani-Nerini is a PhD Candidate at the Faculty of Communication, Culture and Soceity. Her research focuses on hyper-personalisation in tourism, namely on the analysis and interpretation of big data to create more personalised tourism experiences. Her Ph.D research is conducted in connection with the Interreg project DESy (Digital Destination Evolution System) a collaboration with Agenzia Turistica Ticinese SA (Ticino Tourism), USI, SUPSI – in Switzerland – and Distretto dei Laghi, Agenzia di Accoglienza e Promozione Turistica Locale Provincia di Novara, Provincia Verbano Cusio Ossola – in Italy. The main aim of the project is to encourage digital transformation of the travel destination by helping stakeholders have more information on visitors' behaviour and, hence, create more personalised communication and services.

Lea Hasenzahl (USI UNESCO Chair)

Lea Hasenzahl is a Doctoral Student at the Faculty of Communication, Culture and Societyat USI and research associate of the USI UNESCO Chair.  Her research interests include host-visitor-relationships, (sustainable) tourism development and the use of ICTs for mass public communication. With her Ph.D. research project she aims to explore "the public discourse around Chinese Outbound Tourism in Western societies" (working title). 

Dr. Elena Marchiori (Lugano Living Lab)

Dr. Elena Marchiori is a scientific collaborator at the City of Lugano, Switzerland, and coordinator at the Lugano Living Lab, the urban lab of the City of Lugano in partnership with USI.

Prof. Wolfgang Strasdas (Hochschule für nachhaltige Entwicklung Eberswalde)

Prof. Dr. Wolfgang Strasdas has an academic background in landscape planning with a focus on tourism. After having worked as a tourism consultant in development cooperation for many years, he was appointed professor at Eberswalde University for Sustainable Development in 2002, where he established the Master's programme in sustainable tourism management and the Centre for Sustainable Tourism (ZENAT). He has done various research projects on CSR, tourism and climate change, visitor management, and sustainable tourism indicators.

Angelo Trotta (Ticino Turismo)

The director of Ticino Turismo, was born in 1965 . He has a degree in Economics with a specialisation in "Marketing & Sales" from University of St. Gallen (Switzerland). Over the years he has held important management roles at the head of international groups in Switzerland and abroad. 
 * More speakers will be announced soon.